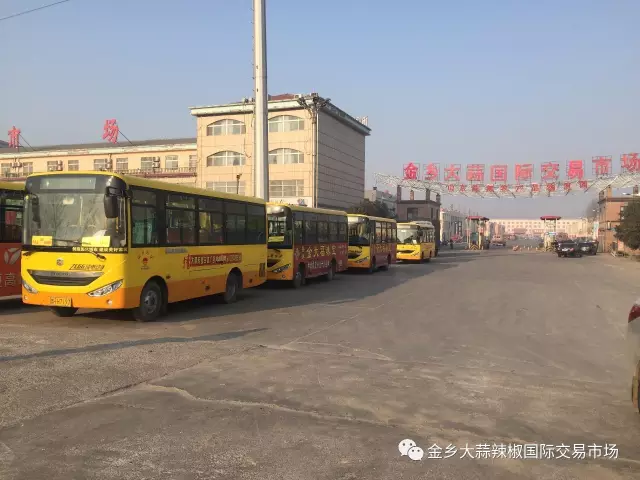 In recent years, with the accelerated process of urbanization, the central city area continues to expand, the original part of the bus station is unreasonable, it is difficult to meet the travel needs of the surrounding masses.
In order to better meet the Jinxiang garlic pepper international market demand for bus travel, standard bus station construction, efforts to solve the open public transport service enterprises, to facilitate the masses "last mile" problem, the bus company in February 15, 2017 on the Jinxiang international garlic pepper trading market 5 new bus lines running. Greatly facilitate the park masses travel, better and faster to promote the development of the park.
Jinxiang garlic chili international trading market is the key investment project in Jinxiang County, now has more than 300 merchants settled. Today, the 5 bus in the market, people in the East Gate market can bus to Jinxiang bus station, not only convenient for the masses, but also for the service enterprises, activate market, play a positive role in promoting local economic development.
No wonder the market leader said happily: "we chose to come here to invest in the construction, that is, take a fancy to the location here.". But before, because of some traffic problems have not been resolved, to a large extent affected the development of the market. Now, 5 bus directly to the entrance to the park, the people and staff sitting here by bus, get off, you can go to the market work and purchase of agricultural products. Public transportation, and popular, and our business will do better. "
Jinxiang farmers are rich because of garlic, and Jinxiang's economy is booming because of garlic. Shandong garlic Agricultural Products Co. Ltd. rely on the brand effect and the county of Jinxiang Jinxiang garlic "A Well-Known Trademark in China to accelerate the construction of the national market in the East, actively develop the market innovation, has now been listed as" designated by the Ministry of agriculture market".
Jinxiang garlic hot pepper international trading market has now become the domestic and international garlic trading center, the price formation center, information trading center, logistics distribution center. Will be better to move the county garlic industry development, enhance the "Jinxiang garlic" brand image, so that garlic trade really embarked on high value competition, efficient circulation of international road.
The following is the bus line: Mountain Lu market, East Gate - Xiao Zhuang community - Garden coal mine - Highway Bureau - County Hospital - Cultural Road - bus station